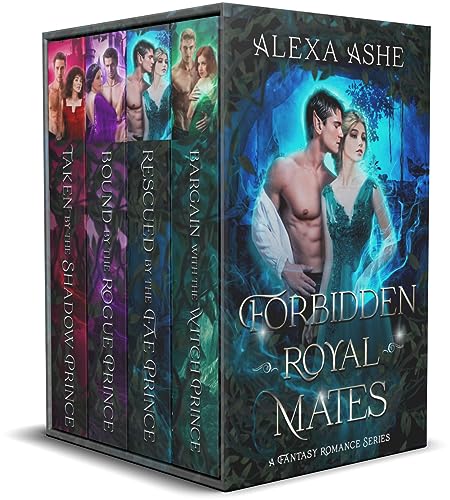 Fall for hot witches, fae and demon royal fated mates in this complete four-book fantasy romance series.
This steamy fantasy romance series contains:Bargain with the Witch Prince
She's a witch hiding a secret, and he's a prince facing an impossible choice, but they strike up an unlikely friendship that becomes something much more.
With their fathers determined to destroy their relationship, they must decide if their love is worth risking everything.
Rescued by the Fae Prince
He came into her life and turned it upside down, pulling her out of prison and into an engagement she didn't want.
She doesn't know that her desire for the gorgeous fae who rescued her is forbidden and her people are now hunted down by his.
And he didn't even tell her he was a prince or that his mom, the Queen, would kill her if she finds out who she is.
Bound to the Rogue Prince
Raised to be Queen, now she needs to be engaged to get her crown. No one said she has to marry him, though.
She didn't expect his captivating copper eyes or the sculpted body she just wants to run her hands over.
But the secret that he's hiding from her could leave them both dead and tear her kingdom apart.
Taken by the Shadow Prince
She heard the warnings—never trust a demon—yet here she is, ready to risk it all.
A mysterious connection draws them together, igniting a forbidden passion.
And soon she must make a decision that will decide both her future and the fate of her world.